Two new members join Sandwich Park District Board; Latham honored for years of service
Provided By: Kendall County Now
May 17, 2021
Two new members were sworn in to terms on the Sandwich Park District Board of Commissioners during a meeting May 13. Shaun Legge and Clinton Harris will serve six-year terms on the board.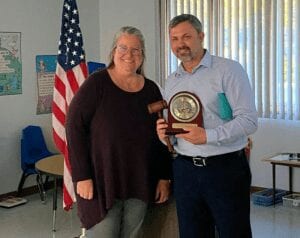 The board and staff also thanked Todd Latham for his years of service on the board, saying he was an asset to the board with his wealth of knowledge in finance and public administration. Latham, who was elected to a four-year term as Sandwich mayor April 6, served on the board from 2013 to 2021.
The park district continues to have one vacancy on its elected board of commissioners. If you or someone you know is interested in serving on the board, send your resume to Executive Director Bill Novicki at the park district office at 1001 N. Latham St., Sandwich.
To qualify to serve on the board, candidates must reside in Sandwich and have lived within the park district's boundaries for at least one year. For information call 815-786-8044.
Sandwich Park District 
1001 Latham Street , Sandwich, IL 60548
815.786.8044 office  815.786.6690 Fax
Copyright © 2023. All Rights Reserved.